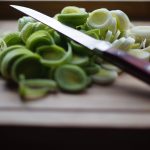 Simple and satisfying, this recipe comes straight from this week's Fresh List. Stop in the Coop and pick up everything you need for this recipe, it's one stop shopping! This is just the stick to your ribs dish you need for those cold winter evenings. Want it more hearty? Cook up a few slices of bacon from Jack Mountain meats and crumble over the top. Easily adapted to a vegan recipe by switching the chicken broth for vegetable and using Miyoko's vegan butter, and Pacific almond milk. This soup comes together easily after a busy day. It's great served with some bread from Essential Baking Company!
Ingredients
2 Tbsp Mother's Choice Butter, or more if you need it
2 leeks, cleaned and chopped
1/2 cup chopped yellow onion
6 peeled and cubed Yukon Gold potatoes
4 cups Pacific chicken broth
1 cup half and half from Twinbrook or Organic Valley
1 Tbsp fresh parsley, chopped
2 cloves garlic, chopped
salt and pepper to taste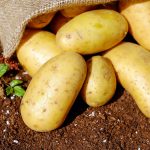 Instructions
Melt butter in a pot over medium heat and cook and stir leeks and onion until vegetables are tender, for about 5 minutes. Then stir the potatoes and chicken broth into the onion mixture and simmer until potatoes are tender, about 20 to 25 minutes. Pour the half-and-half into the potato soup and continue to simmer until it is slightly thickened, about 15 more minutes. Next, stir the parsley, chopped garlic, salt, and black pepper into the soup. Taste to check for seasoning, and add more salt and pepper if needed. Serve.