W  E  L  C  O  M  E
The Anacortes Food Coop is a member-owned grocery store bringing food, goods, and services that are local, organic or sustainably grown and creating a gathering place for education about food, health, sustainability and local resources. – Mission Statement
WE ARE HAVING AN END-OF-THE-YEAR GOFUNDME CAMPAIGN TO SUPPORT OUR EXPANDED PRODUCT SELECTION AND SUSTAINABILITY.  THANK YOU SO MUCH FOR BELIEVING IN THE ANACORTES COOPERATIVE.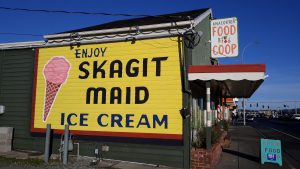 N E W  H O U R S
Mon-Fri   10 am – 6 pm   Sat & Sun 11 am – 5 pm
2 3 0 8  A  

C o m m e r c i a l  A v e
Parking available on the street and behind Real Tequila Mexican Restaurant



Email: anacortesfoodcoop@gmail.com   Phone: (360) 299-3562
The Anacortes Food Coop is in a historic building, which housed a grocery from the 1940s-1970s.  Last summer volunteers, with paint donated from Ace Hardware, restored the fading Skagit Maid Ice Cream sign.  Unfortunately, the business of Skagit Maid Ice Cream no longer exists.  Stop by and see what other frozen treats we offer.