W  E  L  C  O  M  E
The Anacortes Food Coop is a member-owned grocery store bringing food, goods, and services that are local, organic or sustainably grown and creating a gathering place for education about food, health, sustainability and local resources. – Mission Statement
WE ARE HAVING A  GOFUNDME CAMPAIGN TO SUPPORT OUR EXPANDED PRODUCT SELECTION AND SUSTAINABILITY.  THANK YOU SO MUCH FOR BELIEVING IN THE ANACORTES COOPERATIVE.
SPECIAL MEMBER MEETING  SUNDAY JANUARY 26, 4 PM ANACORTES LIBRARY
Qi Lou, from Dog Island Mushrooms, will give a presentation on the health benefits of Kangen Water and how it could bring something unique to the Anacortes Food Coop.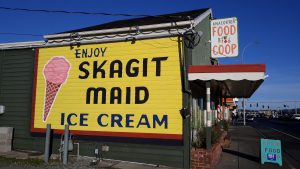 WINTER  H O U R S
Mon-Fri   10 am – 6 pm   Sat & Sun 11 am – 5 pm
2 3 0 8  A  

C o m m e r c i a l  A v e
Parking available on the street and behind Real Tequila Mexican Restaurant



Email: anacortesfoodcoop@gmail.com   Phone: (360) 299-3562
The Anacortes Food Coop is in a historic building, which housed a grocery from the 1940s-1970s.  Volunteers repainted the Skagit Maid Ice Cream sign.  The business of Skagit Maid Ice Cream no longer exists, but we offer delicious Lopez Island Creamery ice cream.