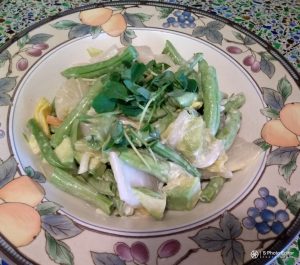 Here at the Coop, we stock numerous varieties of Sujin's Kimchi. This salad is one of many ways to use it. We have also started carrying a vegan mayonnaise, which is featured in this recipe as well. The beans are from Moondance farms. For more on their story, check out the Farmer Facts section of our blog. This dish would be great on its own, or paired with a soup. We hope you enjoy!
Ingredients:
Equal parts (approximately 1c each) Sujins white kimchi and Moondance Farms organic green or wax beans, raw
Garlic Just Mayo, to taste (approx 2 tsp)
One small organic avocado, cubed (or 1/2 large)
Optional: your favorite Coop microgreens
Directions:
Mix ingredients and serve immediately. Top with your favorite microgreens (pictured are Dahlia Depot Farm pea sprouts).