We have a double whammy in the Coop Kitchen this week, instead of the usual one, we have two wonderful recipes for you to try! First up, it's a homey and fresh vegetable soup. Then, a mushroom jerky using fresh mushrooms from Qi!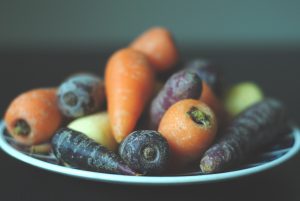 Did you overdo it a little over the holidays? Most us do. It's so easy to indulge without thinking, and then the holidays are over, and it's back to the old routine. If you are looking to get back on track, this soup is just what you need. Chock full of fresh vegetables, it's warm and comforting on a cold winter night, and so easy to prepare. Every vegetable in this soup can be found in the Coop this week, they are pulled right from this week's fresh list! This recipe is simple, vegan, and gluten free. Come by the Coop for your fresh veggies and make yourself a pot full!
Ingredients
2 tsp Olivna olive oil
3 cups orange or purple carrots from Ralph's Greenhouse
2 cups Yukon Gold potatoes from Ralph's Greenhouse, cut into one inch cubes
3 cloves crushed garlic
2 cans diced tomatoes from Muir Glen
6 cups vegetable broth from Pacific
1 cup diced yellow onion from Moondance farm
2 cups chopped cabbage from Willowood Farm
1 Bunch Kale from Willowood farm or Jonquil Farm and Garden
1/2 cup chopped parsley from Willowood Farm
1 tsp salt from Pacific Flake
1 tsp Pepper
Instructions
Heat the olive oil in large pot over medium heat. Add carrots and onion, simmer for 5 minutes over low heat.
Add garlic and simmer for 3 more minutes.
Add the stock, canned tomatoes, and all remaining vegetables except the kale and simmer for 1 hour or until vegetables are tender.
About 20 minutes before serving, add the kale and parsley and stir well.
Season with salt and pepper before serving.
Mushroom Jerky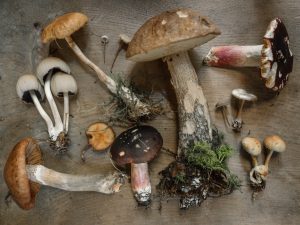 This recipe is so meaty, you'd never guess they are mushrooms!
Ingredients
1/4 pound King Oyster or Blue Oyster Mushrooms
2 Tbsp each Mother's Choice Butter and Spectrum Avocado oil
1 tsp M&B Dried Rosemary
1 clove garlic, chopped
Salt from Pacific Flake
Instructions
Slice the mushrooms and sprinkle with enough salt to absorb moisture. Heat avocado oil on high heat, and add mushrooms, butter, garlic, and rosemary. As mushrooms cook, spoon oil and butter mixture over them. If there is not enough butter and oil to do this, feel free to add more as you cook. Cook for about 8 minutes, and cut into slices for serving.