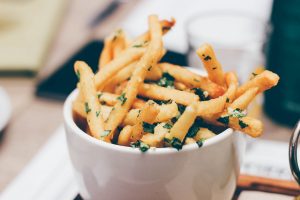 Wondering that to eat on a cold winter night? This vegan poutine should hit the spot! This recipe comes from the Field Roast website. Their products are very versatile, and if you have not tried the Chao, it's divine! It really has a great cheddar cheese flavor! This is also a great dish to serve on game day!
INGREDIENTS
Oven-baked Fries
3 lbs Yellow potatoes (about 7 medium potatoes)
2 tbsp Avocado oil from Spectrum
1/4 tsp salt from Pacific Flake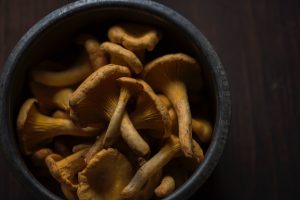 Mushroom Gravy
1 tbsp Vegan butter from Miyoko's Creamery
1 cup Onion, finely chopped
1 clove Garlic, minced
1/2 lb Chantarelle or Shitake mushrooms, sliced (8 oz, about 3 cups)
2 tbsp Flour from Fairhaven Organic Flour Mill
1 tbsp Nutritional yeast from Simply Organic
1 1/2 cups Low sodium vegetable stock from Pacific
3 tbsp Soy-free seasoning sauce (or tamari)
Salt and pepper, to taste
Poutine
2 Field Roast Smoked Apple Sage Sausages, crumbled
5 slices Creamy Original Chao Slices (1/2 package)
1 tsp Avocado oil from Spectrum
Oven-baked Fries
Mushroom Gravy
Instructions
Fries:
1. Wash potatoes and peel if you prefer.
2. Cut potatoes into evenly sized sticks.
Note: If you want your fries crispy, put them into a large bowl of cold water. Soak for 1 to 2 hours. After soaking, rinse and pat dry.
3. Preheat your oven to 400°F. Line 2 large baking sheets with unbleached parchment paper.
4. Place the potatoes into a large mixing bowl and add oil and salt. Toss to coat. Place the potatoes on to the baking sheets in an even layer.
5. Bake for 45 minutes, or until the fries are lightly golden and crispy. Remove from oven to toss/flip 2 or 3 times to ensure even baking.
 Mushroom Gravy: Makes two cups of gravy
1. Add vegan butter to a frying pan or saucepan and melt over medium heat. Sauté onion and garlic with a tiny pinch of salt for about 5 minutes. Stir often to ensure that the garlic does not burn.
2. Once the onions have softened, add the mushrooms and continue to cook for another 8 minutes.
3. Add nutritional yeast and flour, stir to evenly coat the mushrooms and onions.
4. Stir in vegetable stock and soy-free seasoning sauce or tamari. Continue to stir, breaking down any clumps. Allow gravy to cook on medium-low heat, until it thickens up, stirring often. You can add a couple of tablespoons of stock or water if you need to thin out the gravy.
5. Add fresh cracked pepper and more salt, if desired, to taste.
Poutine:
1. Preheat oven to 350°F. Line an oven-safe dish or baking sheet with unbleached parchment paper.
2. Over medium heat in a small skillet, add oil and sauté crumbled sausage for 2 to 3 minutes, until lightly golden and heated through.
3. Remove 5 slices of Chao from the packaging. Keeping the slices stacked together, cut into approximately 24 squares. The goal is to mimic the size of a cheese curd so do not pull them apart.
4. Layer all of the ingredients on the baking dish/sheet starting with the french fries on the bottom. Add about 3/4 of the gravy, reserving the remainder for serving. Top with Chao and crumbled sausage.
5. Bake for about 20 minutes, or until the Chao cheese has softened, but not completely melted.
6. Add reserved gravy.
http://fieldroast.com/recipe/epic-vegan-poutine-smoked-apple-sage-sausages-creamy-original-chao/