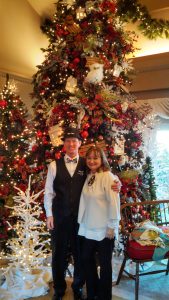 This week, Our Artisan Anecdotes article is all about Dapper Swan Chutney, one of the local products we here at the Coop are proud to carry. Their chutneys are vegan, gluten free, non-GMO, and low sugar. They use real fruit, and local, organic produce whenever possible. Shelby and Jon were nice enough to send many great facts about their business, and we hope you enjoy reading. As you know, we here at the Coop are all about local, and we want our members and customers to have the ability to know as much a possible about who they buy from. This information is written just how they submitted it to us!
Dapper Swan Chutney is a Skagit Valley company established in 2012. Skagit Valley is located in a heavy Trumpeter Swan territory nestled between the San Juan Islands and the Cascade mountains. Not too far from Canada or Seattle!
This pristine valley is rich in farmland, abundant in rotating produce crops, providing the freshest high quality, natural ingredients for our artisan chutneys.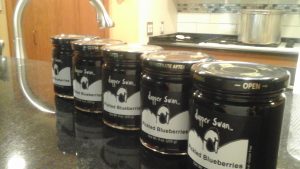 But, what is chutney? Chutney basically means "mixture". It is both relish-like and salsa-like. It can be sweet or savory. Chutney can be found thin or chunky in consistency. The idea of chutney began in India centuries ago. It was brought to Europe and created to be more jam-like in that region of the world. It is used in cooking sauces, bbq's, roasting, and marinades. It makes a wonderful vinaigrette when mixed with a complimentary oil. Perhaps the most popular use for chutney is on appetizers, cheeses, breads, including sandwiches. Mango chutney is well known in most of the world.
Why make chutney you ask? Well, artisan food canning and production is in our blood. For generations, our grandmother's had been canning every harvest time, every crop. An old canner and a farm. That is how the artistry of Dapper Swan began. With roots in artisan food creation, we were inspired by plum chutney and the many uses for chutneys. We studied the origins, cultures and unique cooking styles that are possible with chutney. Plum Oregano was the first of many to come. A few chutneys later, our Mansi's Mango Citrus became our top seller. It is part of our East Indian chutney line-up which also includes Tandoori Peach and soon our Tamarind Mint chutney.
With ode to the swans that grace Skagit Valley, we present Trumpeter Holiday (cranberry apple spice), Cob's Cranberry (savory cranberry pear), Whooper's Harvest (apple pumpkin spice), all offered during the holiday season.  Pen's Pineapple (curried pineapple) is offered all year.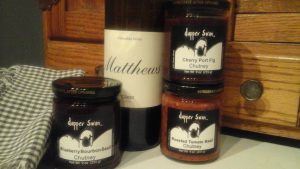 High quality, artisan, clean label chutney is the mission at Dapper Swan.
Dapper Swan sources organic, local, fruit and vegetables whenever possible as a top priority. We take pride in our work and enjoy communicating with our local farmers and fellow artisans. Shelby, our chutnologist has created over 35 exclusive chutney recipes to offer our customers a worldly array of flavors. We even have a breakfast chutney, Farmer's Breakfast! The creative side is natural for Shelby, coming from a design background as well. Hence, the high contrast label design, color and character of the company.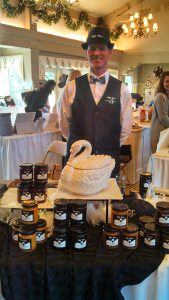 Jon is a major partner in the Dapper operation. Literally. He is key to the operating side as the orders come in, get processed and shipped or delivered. Working with suppliers, sales and marketing all take plenty of hard work and professional experience. An Engineering Program Management background definately qualifies Jon to be up to these tasks. His humor and love for people are noticed at many food events, Farmer's Markets and promotions. His knowledge and passion for Dapper Swan and artisan food is appreciated.
Our future at Dapper Swan is looking like a larger migration. We will continue to expand our distribution this year. We will be adding products, improving our on-line presence and possibly adding staff. Side projects may include a quarterly newsletter called "The Migration". All in all, we look forward to a dapper 2018.
In addition to all of this, Dapper Swan has a commitment to environmental stewardship. To that end, they have constructed their commercial kitchen largely from recycled materials, and they have a jar recycle program. They have an interest in the well being of our local Skagit Trumpeter Swan population, as well as the National Swan Society. Using their soft animal mascot named Swanky, they hope to generate interest in and raise funds for the care and safety of Trumpeter Swans. They have a goal to be additive to society on all levels, whether it be local, global, national, or environmental. In addition to these great things, they also have a side project, White Swan soap, that they carry which is made for them by their artisan with ALS. A portion of the money generated by sales of the soap go to the ALS Foundation. As a future goal, they hope to include a project to aid hunger, clean water, or the improvement of living conditions in a needy country.
If you would like to learn more about chutney, or how to use it, sign up for our upcoming Free Valentine Cooking for your Sweetie class at the Coop on January 28th at 2pm! http://www.anacortesfoodcoop.com/events/