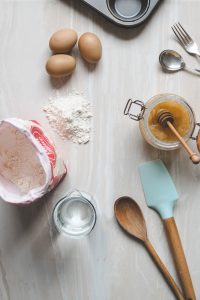 Looking for a twist on your usual peanut butter cookie? Well here it is! This uses Salted Maple Pecan Butter for a decidedly different take on this classic treat. There are even instructions for making your own brown sugar for those who want to take that extra step. Its so easy! We hope you enjoy!
Ingredients
1/2 cup Wholesome Organic Cane sugar
1/2 cup packed brown sugar (see note)
1/2 cup Hummingbird salted maple pecan butter
1/4 cup Spectrum shortening
1/4 cup Mother's Choice butter, softened
1 egg from Dahlia Depot or Palouse
1 1/4 cups white flour from Fairhaven Organic Flour Mill
3/4 teaspoon Bob's Red Mill baking soda
1/2 teaspoon Bob's Red Mill baking powder
1/4 teaspoon Pacific Flake salt
Steps
Mix sugars, peanut butter, shortening, butter and egg in large bowl. Stir in remaining ingredients. Cover and refrigerate about 2 hours or until firm.2
Shape dough into 1 1/4-inch balls. Place about 3 inches apart on ungreased cookie sheet. Flatten in crisscross pattern with fork dipped into sugar.
Bake 9 to 10 minutes or until light golden brown. Cool 5 minutes; remove from cookie sheet. Cool on wire rack.
Note: To make your own brown sugar, simply take 2 Tablespoons of Wholesome molasses and 1 cup of Wholesome Organic Cane Sugar and beat with the paddle attachment of an electric mixer until fully incorporated. Use what you need, and store the rest.