Do you need a quick last minute side dish for your holiday meal? This healthy and flavorful dish comes together in no time! It would pair well with ham, beef roast, turkey, or a great side dish in a vegetarian feast. When you have so many other things to worry about while preparing your holiday meal, it's always nice to save time where you have the chance. No one has to know this took almost no time to make!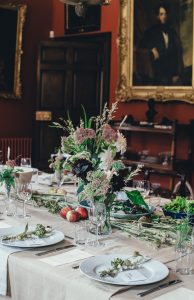 4 tbsp sunflower seed oil from Spectrum
1 1/2 lb Brussels sprouts, cut in half
1/2 tsp each salt and pepper
1/2 cup orange juice (made from Cascadian Farm frozen orange juice concentrate)
1/4 cup Smallwood Farm Honey

3 cloves garlic, minced
1 tbsp Natural Value sriracha
2 tsp classic mustard from Mustard and company
1/3 cup chopped toasted hazelnuts from Holmquist Hazelnuts                                                                                                                                                                                                                                                                  In a large skillet set over medium-high heat, sauté the Brussels sprouts and the salt and pepper for 5 minutes or until sprouts start to brown. Stir in orange juice, honey, garlic, sriracha and mustard. Cook, stirring frequently, for 3 to 5 minutes or until sprouts are tender and liquid is syrupy. Garnish with the toasted hazelnuts.