Happy New Year, Anacortes Food Coop Members!
It has been an exciting and eventful year at the Anacortes Food Coop. Our founding energizer-bunny, Brian Jo, moved out-of-town, and on Valentine's Day, the Coop moved to a new location at 2308A Commercial Ave, in the old Skagit Maid Ice Cream building. And, we are loving it!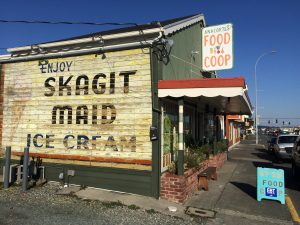 Inventory has almost tripled in the last year, so there is a LOT to see at the new location. The Anacortes Food Coop needs members to meet their grocery shopping needs at the Anacortes Food Coop to survive in Anacortes, so be sure to tell the team if there is something important missing from inventory. Furthermore, if an item isn't in store, or you want to order in bulk, you can place an order from more than 80,000 items available to us through our distributors and get a 10% discount on your special order.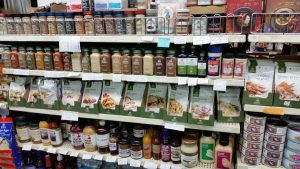 Cooperative and Anacortes values of sustainability and community continue to be the cornerstone of the Anacortes Food Coop. Community programs at the Coop have grown to include free memberships for those in need, two little free pantries on site (refrigerated and shelf-stable), 20% off specific items every month, and food stamp matching. Also, the Anacortes Food Coop will soon feature "Serenity Saturdays," (see footnote for more about the naming of the events) where 5% of all purchases will go to charity or the Anacortes Food Coop food stamp matching program.
If you want to help sponsor to the food stamp matching program, we currently have a matching grant for up to $2,500! You can contact the Coop at anacortesfoodcoop@gmail.com to get an email allowing you to pay online or drop by the Coop to help us get those funds.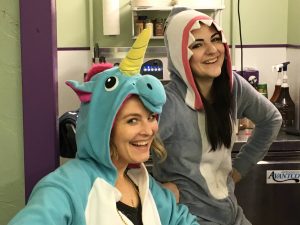 We also have special events for members! Events include items that members can get for free or at a discount when they shop. Also, the Anacortes Food Coop is currently entering all members who spend over $50 in one trip to the Coop in a drawing to receive 10% off all purchases the entire following month! Members and those who subscribe to the e-newsletter get emailed information about specials, events, what is fresh at the Coop, recipes using currently fresh products, and profiles of our local vendors and farmers.
We have a great team at the Anacortes Food Coop! Haley will be moving on to an exciting next step in her life in Seattle, but Matt Schuh has joined us, and we are excited to have him! Sheri B and her son, Donnie; Lela, Amy, Matt; Sheri and her daughter, Rachel "Cool Beans" Muntean make up the 2018 Anacortes Food Coop Team. Of course, we can't forget our wonderful volunteers and volunteer Board Members! Felicia, Heather, Sara, Sequoia, and Billy make up the current Board. If you are interested in a Board position, don't hesitate to email the anacortesfoodcoop@gmail.com!
Happy New Year from the Anacortes Food Coop Team!