What says comfort food more than Tomato Soup and Grilled Cheese? It's a classic! Here. we are taking a vegan twist by using Chao slices from Field Roast. If you haven't tried them, you should. They are creamy and melty, and taste so much like a dairy cheese you can hardly tell the difference. If dairy is more your speed, we have a wonderful selection of dairy cheeses at the Coop to choose from. Roasting the tomatoes really brings out their flavor and adds depth to the soup. If you're looking to spice up your grilled Chao, feel free to add a spoonful of your favorite Sujin's kimchi. Enjoy!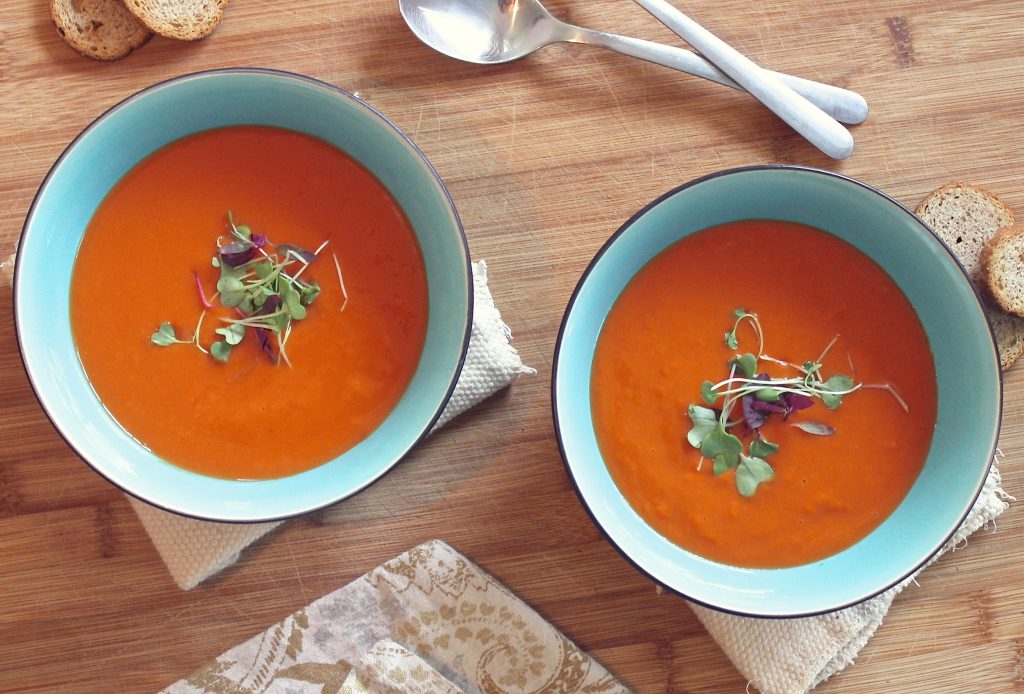 Ingredients
For the Soup
3 pounds fresh tomatoes, cut into eighths
1 onion, cut into quarters
3 Tbsp Olivna olive oil
1 Tbsp Pacific Flake salt
1 1/2 tsp M&B ground black pepper
3 cloves of garlic, cut in half
5 cups Pacific vegetable broth
2 tsp Simply Organic dried basil
1 tsp Simply Organic dried parsley
For the Sandwich
3-4 slices Chao from Field Roast
2 slices Essential Baking sliced multigrain bread
2 Tbsp Mother's choice butter or Miyoko's vegan butter, divided
2 Tbsp Sujin's kimchi (optional)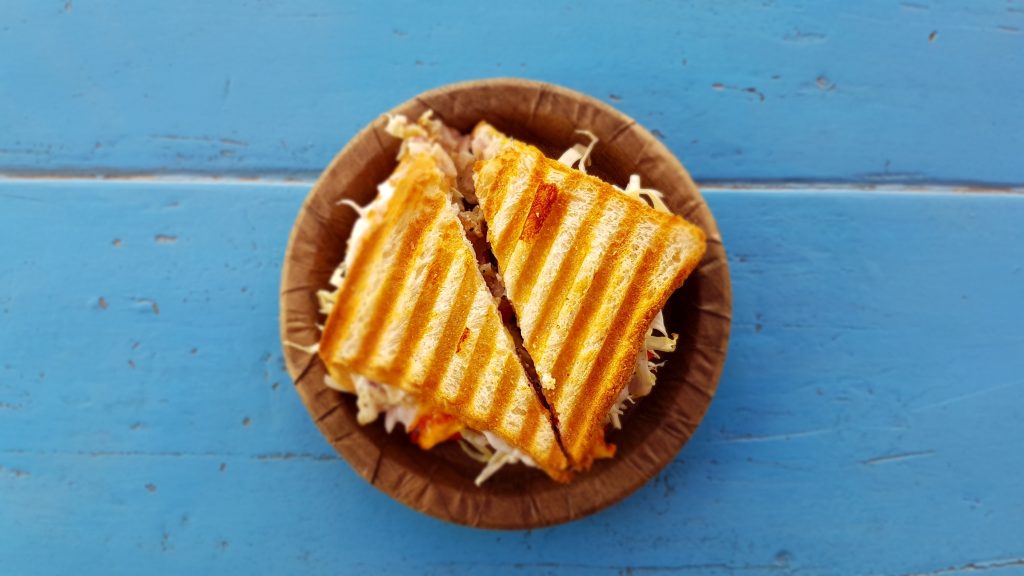 Instructions
Preheat oven to 400 degrees. Line a large baking sheet with aluminum foil. Spread tomatoes and onion, in a single layer onto the prepared baking sheet. Drizzle olive oil over tomato and onion and season with salt and pepper. Roast in the oven for 30 minutes; add garlic and continue roasting until tomato mixture is tender, about 15 more minutes. Bring vegetable broth, basil, and parsley to a boil in a large stockpot; reduce heat and simmer. Put half the tomato mixture into a blender. Cover and hold lid down; pulse a few times before leaving on to blend until smooth, adding a small amount of the warm vegetable broth if liquid is needed. Pour pureed tomato mixture into stockpot with the vegetable broth. Puree remaining half of tomato mixture and add to vegetable stock mixture, mixing well. Simmer for 5 minutes. For the sandwich, heat skillet or griddle on medium high. While it heats up, place Chao slices on bread, top with kimchi if using. Melt 1 Tbsp butter in cooking vessel of choice, cook sandwich on one side until golden and Chao is melting, melt the other Tbsp of butter, and cook the other side of the sandwich in the same manner.