The New Year is upon us.  May this time fill you with hope and energy for a terrific year.  We thank you for your continued support and would love to see you commit to increase that in any way you can – 10% more purchases a month, 3 hours of volunteering, consider being a board member.  How about a New Year's Resolution to health and happiness –
yours and the Coop's!
We have a nice new crop navel oranges, along with regular lemons and limes. Buying bananas at the Coop really helps us, because we have to order them in 40 pound shipments. Fortunately, we have a member who likes to eat a couple pounds a day (OK, he's an endurance runner), but we would appreciate a little more sales before they're turned into banana bread. Other Fresh items are big heads of CAULIFLOWER and dark green Laccinato KALE and BABY SPINACH.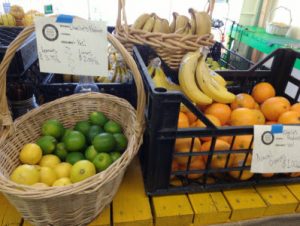 Siren Strong is excited to offer Coop members a discount on her upcoming health and nutrition classes. The Prime-Time Approach Plan empowers individuals to take charge of their health and learn how to:
-prevent disease and unhealthy aging
-boost energy levels
-reduce stress
-sleep better
-reduce the risk of cancer, high cholesterol, high blood pressure and arthritis
-become fit, flexible and strong
The first two workshops are:
1. January 13, 1:00: Open Your Internal Pharmacy–understand how the body works and what is taking place inside. Learn how our bodies make their own medicine and how to improve our health with the "pills and skills" approach.
2. January 27 1:00: Make Health Your Hobby–Understand the health and wellness journey, how to set attainable goals and the importance nutrition plays in overall well-being.
The location of the workshops is CrossFit Anacortes at 506 30th Street #7. The workshops include a workbook and a snack! Each runs for about 1.5 hours.
Coop members get $10 off. Use the coupon code: wellnessmember
https://www.sirenstrong.com/live-workshops
THANKS.
2019  – YEAR OF THE PIG !