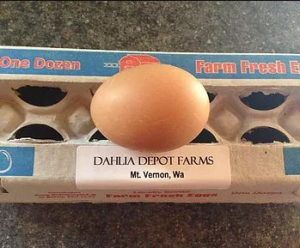 Everybody loves Dahlia Depot Farm eggs! It seems like we never have enough. The farmers at Dahlia Depot farms have even agreed to increase the size of their flocks just to meet the Anacortes Food Coop needs. And, we are tremendously grateful. They are truly a valued part of the Coop community.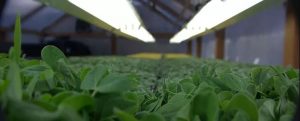 Dahlia Depot Farms has been working their small, Skagit Valley farm, using only organic farming principles for over ten years now. You can find their products at the Mt. Vernon and Sedro Woolley Farmers Markets, the Anacortes Food Coop, the Adrift, C-Square and Third Street Cafe in Mount Vernon, Skagit Valley Co-op, and the Woolley Market.
You will also recognize the Dahlia Depot Farms name from the Pea greens and microgreens carried at the Anacortes Food Coop. Their Mild Mix is a combination of Broccoli, Kale, Kohlrabi, Arugula, Red Cabbage, and Cauliflower microgreens. The Spicy Mix is the same as the Mild Mix with the addition of Mustard greens.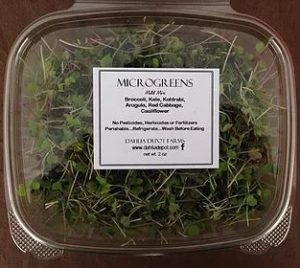 Most people love microgreens because they are made up of sweet, young greens which provide even more nutrition than mature plants. They are particularly high in antioxidants, vitamin C, Beta-Carotene, Vitamin E, and Vitamin K. They are so tender, they never require cooking. They are excellent in their raw form in sandwiches, salads, breakfast eggs and burritos, baked potatoes, smoothies…just about  everything where greens can be added. In fact, you can find the Dahlia Depot Farm microgreens in a number of the salads and sandwiches at the Coop at Rachel's Cool Beans Cafe.
It's all about the Chickens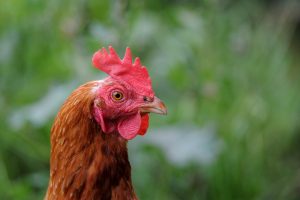 Dahlia Depot farms writes, "Pastured or free range are pretty much one in the same.  Our birds are both!  The nesting boxes are inside where the birds can lay in a location out of the rain, snow, sun, wind etc.  They are free to wander out into an electric poultry fenced pasture area where they can scratch, eat bugs and grass just like chickens should do.  The electric fence is up to keep the predators, like coyotes, out…not the birds in!  No caging for us!  The fencing is portable so as the area is eaten and scratched down, we move them to another area where the grass is green!"
They never use antibiotics. Thought their eggs are USDA "Natural," all their grain they use to feed their chickens are non-GMO and antibiotic-free. As for the birds' lives, John says, "When our birds come to their natural end of laying they remain with the flock…the birds continue to act like chickens even though they have slowed way way down.  We don't cull them as many farms do.  We feel they did a job for us so we will continue to treat them with respect and let them live out their lives naturally."
Dahlia Depot Farms JANUARY 2018 UPDATE: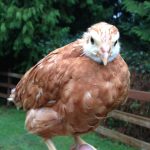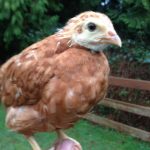 John just sent us some lovely pictures of the chicks they are growing, just for the Anacortes Food Coop! We are excited they are expanding their well-loved flocks to meet the Cooperative needs of the community.